George Maciunas' Expanded Arts Diagram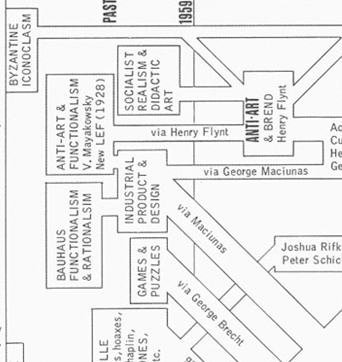 Evolutionary trees aren't just for paleontologists and music fans; artists from other disciplines have also famously used them to try to get a handle on the explosion of influence in their own worlds.
Viz. this diagram by George Maciunas, co-founder of the Fluxus movement of the early '60s, which attempts to trace the pedigree of artists active in the avant-garde from 1959 through 1966. He runs into the same challenges as others who diagram the creative context behind specific artists; designations like "messy aspect" are vague, although I get the point.
It's interesting that for the purpose of Sceneroller's own rock-'n'-roll focus, some names on the chart have resonance: Angus MacLise, Gerard Malanga, LaMonte Young and of course Andy Warhol played a role in the birth of the Velvet Underground, and Yoko Ono needs little introduction to fans of popular music. (I haven't spotted Al Hansen on this chart -- another Fluxus member who also is the maternal grandfather of Beck.)